Getting Involved
We are all driven by different things. With all of our different visions and passions, we must not forget that there are others who might need help, whether it be financially or physically or simply words of advice and wisdom. Do you part and lift up those around you.
DRiven By... COMMUNITY BOOK DRIVE
Driven By... is collecting the books from your shelves that you are no longer reading! Let's make them available to others in the community!
Driven By... Spotlight videos
Send in a video sharing your story about what drives you , how you were able to overcome obstacles in your life and how your mindset has helped you in reaching your goals.
offer some advice
Do you have words of wisdom that you live by? Let us know so we can share these words with others who might need them.
Driven By… Charity Soccer Tournament 2019
On July 7th, 2019 we had our very first Charity Soccer Tournament.

Our 5 team captains, James, Nikki, Marise, Daevon and Ericka brought their teams to play and have a great time! All teams left their hearts on the field! The championship team won a prize basket valued over $1200 donated by several local vendors.

At 3:00pm, over 20 children of the Boys & Girls Club of Peel arrived by bus to attend the tournament! Several athletes and volunteers took time to run soccer workshops with the children to help develop their soccer skills! After their workshops, the children got to cheer on their favourite team in the semi-finals!
All participants had nothing but positive feedback to share about our event and our volunteers! Together we raised a final total of $660.38 for the Boys & Girls Club of Peel.
Boys & Girls Club of Peel Soccer Workshops
Teaching children a new sport is a great way to build character and enhance their ability to work in teams!
Driven By... was able to attend and teach alongside Brampton Soccer Club and the Boys & Girls Club of Peel at Oxford's Grand Opening of the new soccer field at Brampton Towers. All the children of the Boys & Girls Club came out received their very own soccer balls and had a blast as we ran soccer drills with them!
Driven By… also runs biweekly soccer workshops with the children (ages 3-12) of the Boys & Girls Club of Peel teaching them the fundamentals of the sport!
Driven By… Adopt-A-Park Initiative
Our first park clean up as part of the Driven By… Adopt-A-Park Initiative was a great success! On April 28th, 2019, our team of volunteers met at Erin Mills Twin Arena excited to clear the park of litter! Put into teams of two and spreading out to cover the park, we were surprised at the objects we found! From full sets of tires, plastic buckets, hundreds of cigarette butts, plastic poles, food wraps, beer bottles, styrofoam and so much more! This reminded everyone to be more conscious of disposing of litter properly. As a team, we collectively picked up 399lbs of garbage! Everyone was shocked at how much garbage there was and how much we were able to collect in a short period of time! Thank you to everyone who came to help make a difference! We will see you at the next park clean up day!
Ball 4 Change (Samantha's 25th)
There comes a time in our lives when we begin to look at things greater than ourselves, where we celebrate ourselves by celebrating others. This came true for Samantha Hallig as she turned 25 years old. Samantha Hallig of Mississauga wanted to celebrate her birthday by giving to back to others, so she partnered with Driven By… Co. to create "Ball 4 Change." She came up with the idea knowing that she wanted to do something significant, and with her love of basketball, she came up with the perfect event.
Ball 4 Change on February 17th, 2019, was a basketball tournament where instead of paying to play, players made a donation to the Boys & Girls Club of Peel through Driven By… Co. Split into 4 teams, each team played a total of 4 games. With a variety of skill levels across the room, it was great to see how everyone made each game very inclusive for all players. Everyone left their hearts on the court and the winning team walked away with gifts from the birthday girl herself! MVP awards were given to Joelle and Kyle, who gave 110% effort! We also raffled off a Driven By… hoodie and 2019 planner to raise extra money for the Boys & Girls Club of Peel.
Everyone had such positive feedback for the event and thoroughly enjoyed themselves. Together we raised over $300 for the Boys & Girls Club of Peel between player donations and raffle ticket sales. It was an incredibly successful event that we hope inspires others! Happy Birthday Samantha! Thank you for Balling 4 Change!
DrivenBy… Holiday Food Drive 2018
The 2018 DrivenBy... Holiday Food Drive has been a great success. With the help of many generous and caring individuals we have delivered the gifts to Armagh on December 18th. The directors and child & youth works at Armagh were overjoyed to see that we were back again for another year with even more to give! This year we raised $220 that was used to purchase 5 boxes of non-perishable food items! In addition, some individuals kindly donated toys and books as gifts for the children. In total there were over 10 boxes filled with donations! Thank you so much to everyone who donated, thank you for making a difference in the community and for helping to rebuild lives. We don't have to walk our journey alone, and you proved that!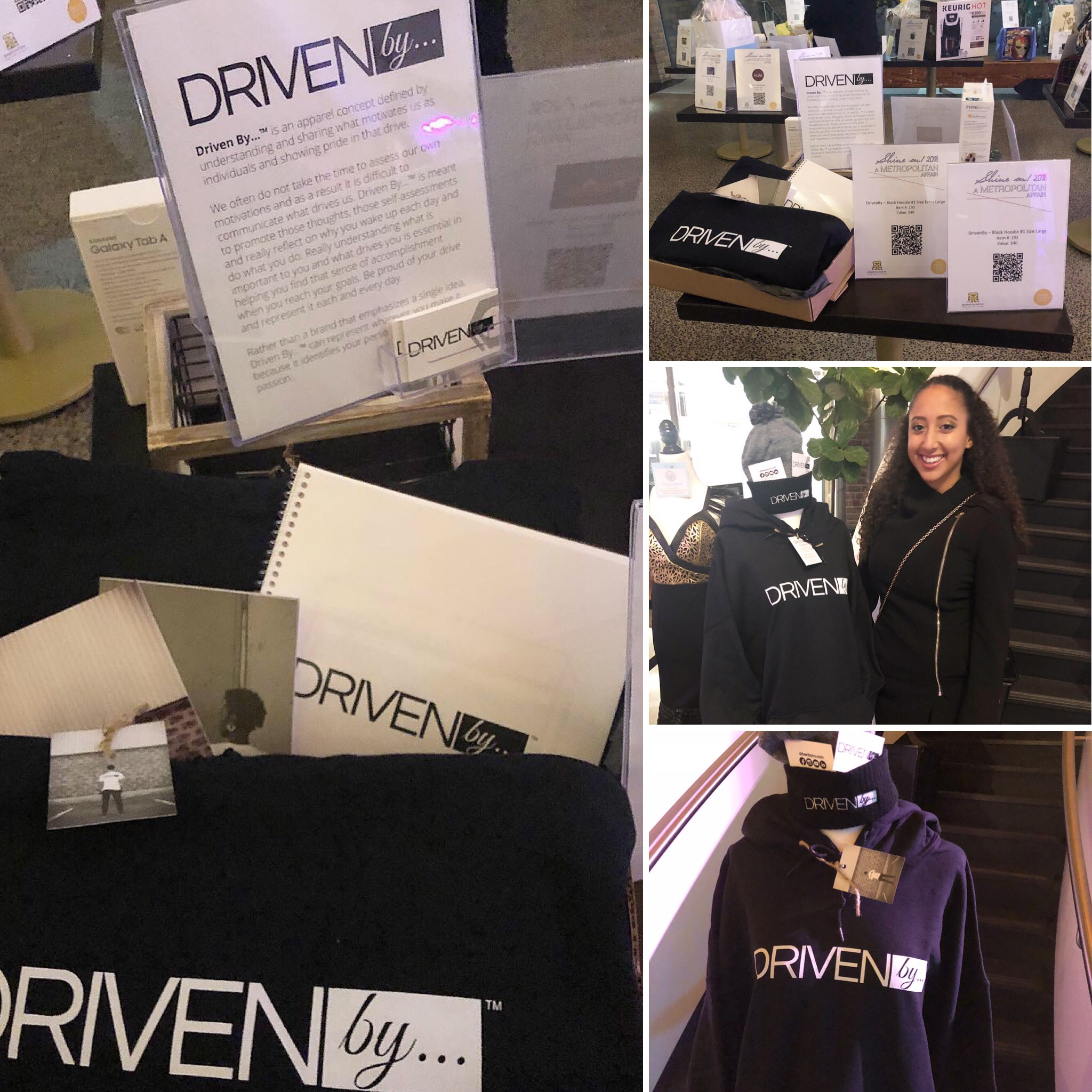 Project Sunshine YPC Event:
"Shine On! A Metropolitan Affair"

On November 9th, 2018, we had the opportunity to donate some DrivenBy... clothing to the silent auction at the Project Sunshine YPC Event. "Shine On! A Metropolitan Affair" a fundraising event to support the mission of Project Sunshine to transform medical centres into cheerful places for paediatric patients and their families. With our support and the support of many other generous individuals, the event raised over $20,000! Thank you to the organizers and especially to Liz Wood, co-chair, for inviting us and all her work to make a difference.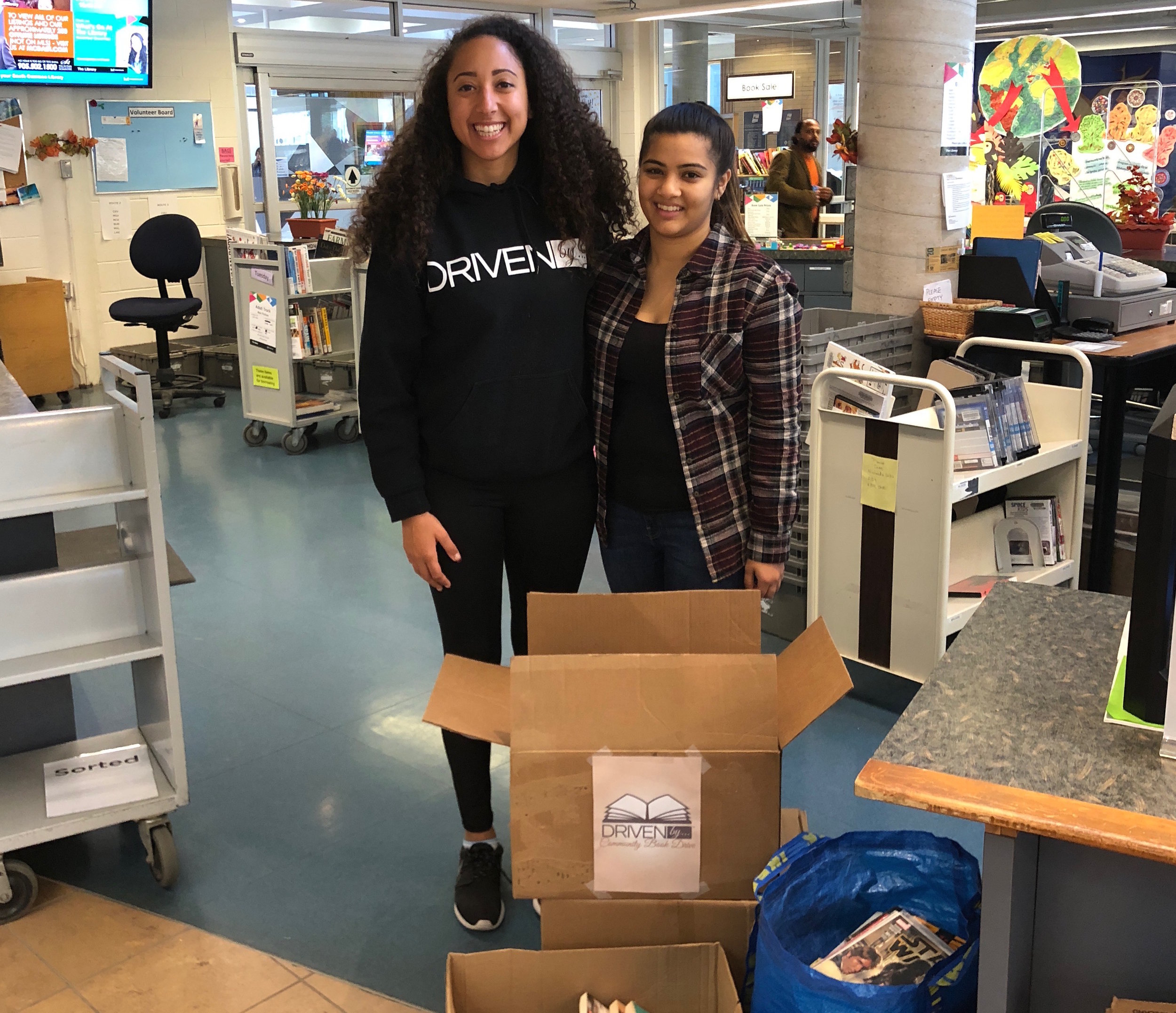 DrivenBy… Community Book Drive
The DrivenBy… Community Book Drive of 2018 was a great success! Thank you to everyone who took the time to gather books off of their shelves and donate them to the cause! On October 24th, 2018, the books were dropped off at South Common Library, where the books enter a library book sale. The proceeds from the book sale go to purchasing brand new books for the library!
Be proud that you have been a part of improving the quality of the Mississauga library system!
DrivenBy… School Supply Drive

The DrivenBy... School Supply Drive was a major success! Thank you to everyone who made a contribution and thank you for being a part of the solution. Four large boxes of school supplies were taken to the Boys and Girls Club of Peel on August 23rd, 2018. The Boys and Girls Club of Peel is a non-profit organization that works with youth of all ages to teach leadership and inclusiveness. This organization fosters long term relationships with the youth who find themselves returning to volunteer and help those younger than them grow into DRIVEN individuals.
DrivenBy... Beach Clean-Up
Working as a team, we collected over 50lbs of trash on Burlington Beach on May 27th 2018. We made a huge statement on the beach as many sun bathers asked questions and commended us for what we were doing. We really don't realize how our waste is all around us!
All the volunteers who were involved, explained that doing this exercise was really eye opening for them. They felt accomplished and energized, that they were able to make a tangible environmental impact.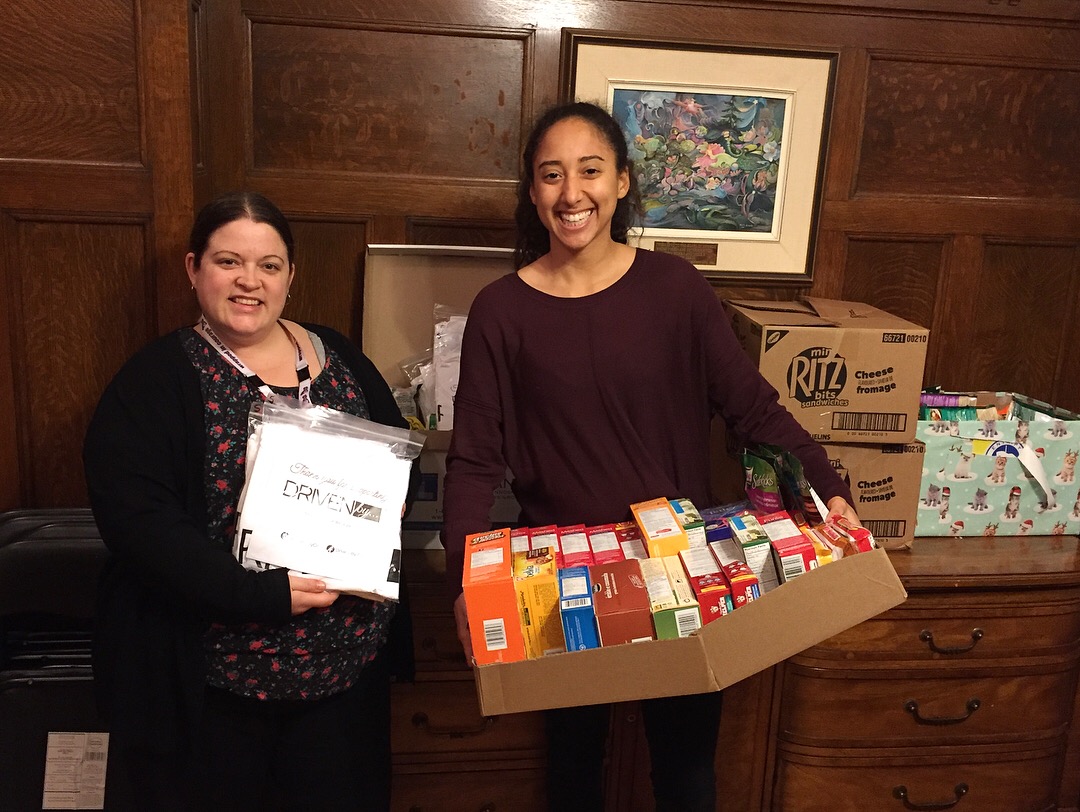 DrivenBy... Holiday Food Drive 2017
The Holiday Food Drive in 2017 was a major success. Together we filled over 8 boxes of non-perishable foods and donated them to Armagh, a local shelter for women and children in crisis.